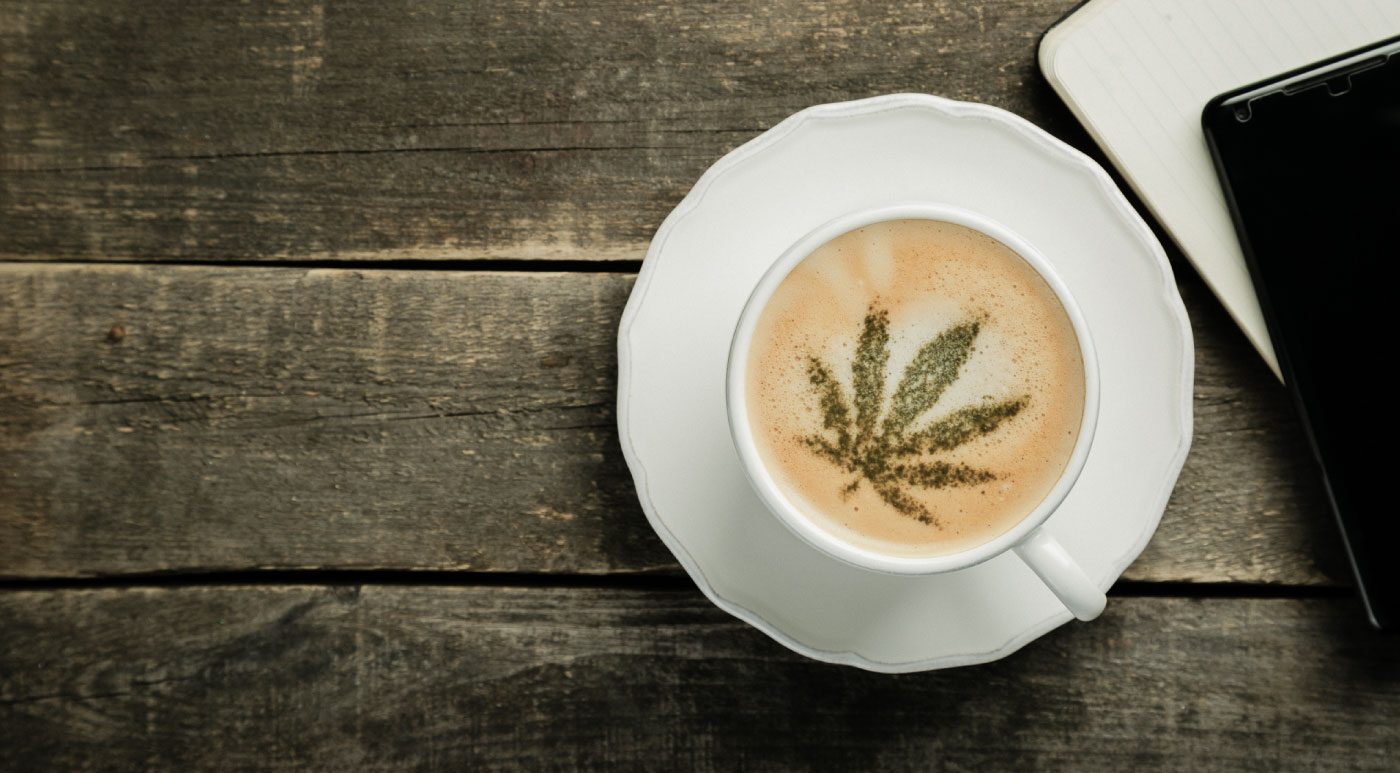 Drugs come in all shapes and sizes, from run of the mill daily vitamins to the addictive and noxious illicit substances. A drug, according to Dictionary.com is "a medicine or other substance which has a physiological effect when ingested or otherwise introduced into the body." So, even though "drugs" are often related to health dangers, they're not all bad––and they're not all so out of reach. 
Is Coffee Good for the Body?
One drug that rarely comes to mind, but still fits into this category, is coffee. Coffee is jam-packed with caffeine, which makes it a tasty and ritualistic daily stimulant for our busy modern lives. 
The Alcohol and Drug Foundation classifies caffeine as a stimulant drug, acting as a bullet train for messages between the brain and the body. While this may help rocket you from a restful sleep into ready-to-go mode, too much of this aromatic drug can have some side effects. 
Excess amounts of caffeine can be a cause of excitability and dizziness, anxiety and irritability, racing heartbeat, and dehydration. Some of these side effects can be combated by the use of another naturally occurring plant extract: CBD.
Best Ways to Use CBD in Coffee
Now that cannabis is getting a retrial for its accusations of being a bad drug, the jury of its peers––namely the Food and Drug Administration––is grappling with how to ensure its off-shoots are safe. 
Cannabidiol, known as CBD, is characterized as having calming and soothing effects. Where there's knee pain, sore muscles, or arthritic joints, taking CBD may alleviate some of the pain. Where there's anxiety and restlessness, doses of CBD may help calm the thoughts and relax the mind. When added to coffee, it may enable the caffeine to make you alert while skipping the jitters.
For people with anxiety, skipping caffeine jitters makes CBD coffee an attractive and practical way to get a daily dose. Taking a daily capsule or using drops is also an option, but let's face it––swallowing a pill is a much less enjoyable practice than enjoying a fresh cup of joe in the morning. 
CBD Coffee for Anxiety
Caffeine is known to rev you up, but what if you could give your alertness a boost and still stay cool, calm, and collected? That's exactly what makes CBD coffee such a valuable product. Doctors over at EverydayHealth.com relate caffeine to an anxiety trigger––which, of course, isn't good for anyone who regularly experiences anxiety or has an anxiety disorder.
Since caffeine in coffee works as a stimulant, it produces a similar reaction to "fight or flight." For those with anxiety, the jolt could push them to the edge instead of providing a steady alertness. Though adding CBD to their coffee be a delicate balance for some, others find it to be a good way to beat the normal anxiety and tense stomach that can come from coffee.  
And how does the FDA feel about it being the hot new ingredient? They're still working on it. CBD is completely legal for consumption to all citizens in all 50 states––as long as it falls below the maximum THC content of 0.3%. Most CBD products do, and that means it can be used as you see fit. 
The one thing the FDA is certain of is that they don't want restaurants putting CBD into prepared food and serving it to the general population. Currently, you'll have to do it at home. With our pick of the 10 Best CBD Coffees, we make it easy for you to add a steaming cup of calming coffee to your mornings. 
1. Sträva Craft Coffee
Organic Colorado growers supply the hemp that eventually becomes the CBD in Sträva Craft Coffee. 
The brand has garnered a lot of press over the years, including the New York Times, Men's Health, and they recently were featured on CBS This Morning. The buzz all has the same ring: this CBD coffee rocks. 
Sträva is made to tap into your needs. They've created blends to help you Focus, Restore, Elevate, or Escape your mornings, all while promoting peace and wellness. 
It's the perfect opportunity to start easing up on spending too much to meet your daily coffee habit. The Focus variety contains a light touch of CBD with 30 mg. With 24 servings, each cup ends up costing you closer to $.80 than $4.
You can get higher doses of CBD depending on the bag you choose. If you're still wary about what caffeine will do to your anxiety, Sträva has the answer. The 60 mg Decaf Escape option allows you to evade the risk of caffeine jitters and enjoy a steaming cup of CBD to start your day.
This coffee is whole bean, so it's not just CBD and coffee; it's CBD-infused coffee. And with all the options available, it's no wonder this CBD coffee made it to the #1 spot in our list of the 10 best CBD coffees.
Best for: Those who want to make CBD coffee part of their wellness routine.
2. Green Roads CBD Coffee
This winner of the 2018 Best CBD Product Award from the Cannabis Business Award takes their product line to the next level with the introduction of CBD coffee—in both normal strength and decaffeinated options. It gets the same attention from the licensed in-house pharmacist at Green Roads, as well as a thorough inspection by third-party lab tests that ensure what you're getting is safe and uncontaminated.
An estimated 6-7.5 mg of CBD will come in every tablespoon, regardless whether you purchase a 2, 8, or 16 ounce bag. The bags do have varying levels of CBD as a whole: a 2 ounce bag contains 60mg CBD, the 8 ounce bag has 250mg of CBD per serving; and the 16 ounce bag packs 500mg of CBD into this 16-serving stockpile. 
The decaf version only comes in an 8 ounce bag and promises a more delicate profile.
This coffee also comes as a pre-ground, full-bean product. It's made with quality Colombian coffee beans infused with broad-spectrum American-grown CBD hemp extract. 
Best for: Coffee connoisseurs who like a little extra punch from their specialty imported coffee beans.
3. Willie's Remedy
In true Willie Nelson fashion, he's taken an entrepreneurial route and created a plant-enriched coffee—and landed at #3 on our list of the 10 best CBD coffees.
The plant, obviously, is hemp. Grown in Colorado and certified organic, 1 mg of this all-natural extract combines with 1 gram of coffee beans to create a balanced experience. At approximately 15 mg of CBD a cup, you'll get both focus from caffeine and calm from CBD with your daily cup of joe.
There are both pre-ground and whole bean options available. The CBD concentration stays consistent at 250 mg per bag, but coffee lovers will get the same flexibility in caffeine concentration they enjoy at any cafe. Willie's Remedy includes a light, medium, dark, and decaf roast. 
This product is reportedly best if it's made with a french press. 
Chalk it up to his enduring fame as a musician and outspoken hemp advocate, but Willie's brew has received plenty of press, including a specific feature on its release in Rolling Stone, The Hemp Mag, and Austin 360.  
Best for: Anyone hoping to buy CBD coffee with a standard-level amount of CBD no matter what size bag you buy.
4. NakedCBD
Without a touch of celebrity, the bare NakedCBD offers a wonderful way to start your day with CBD.
Despite not having a famous face of the brand, NakedCBD is for a certain customer. Whereas Willie's Remedy is intended for a french press, Naked CBD (which can also be purchased through Thrive Greenway) comes in K-cup pods for Keurig convenience. Each pod holds 10 mg of CBD inside. You can get a stash of 12, 6, 3, or just one pod to try out. 
These pods are made with responsibly-sourced Colombian coffee and soaked in broad-spectrum hemp extract that's pharmaceutical-grade and completely void of THC. Offered in both caffeinated and decaf versions, the 10 mg dose of CBD is a standard dose to help promote a sense of calm. 
Best for: Anyone who likes getting a quick fix of caffeine and CBD through the convenience of K-cups.
5. Flower Power Coffee
Flower Power CBD coffee touts themselves as the "Original CBD Coffee," although their concentrations are lower than most. Even so, this pioneer still strongly ranks among our 10 best CBD coffees.
This smooth, fragrant roast, which comes in rich flavors like Raspberry Mocha Cream, is enhanced with a delicate, 5 mg touch of CBD. What you get from this blend is more of an exciting coffee experience and moderate to low amounts of CBD. It's a nice touch to your day, but not likely to make much of a noticeable difference if you need it for things like anxiety or muscle soreness. 
Still, as one of the originators of CBD-infused coffee, Flower Power proves that CBD can be a nice and gentle element within your daily routine. For the gentlest touch yet, try their Dawn's Kiss Decaf. If it's a punch you're looking for, Flower Power can deliver that as well, with blends like Guru's Wakeup Call and Big Island Joe. 
Best for: Anyone who wants a subtle touch of CBD with an exotic-flavored coffee. 
6. Buddha Beans Coffee
Rich, smooth, and full-bodied—these are the hallmark adjectives of a great cup of coffee. Sourcing coffee from Burundi, Mexico, Colombia, and Ethiopia, the Big Buddha brand creates a line of CBD-infused coffees to meet your specific taste. 
In addition to the multiple sources, you can then further customize your CBD coffee experience. Get a light, medium, or dark roast and have it either pre-ground or arrive as a bag of whole beans. 
Though the coffee is imported from expert-growing locations, the hemp used to create the CBD is organically grown in the United States. A 6 ounce bag contains 150 mg of CBD, while the larger 12 ounce bag has a CBD content of 300 mg. 
Reviewers are thrilled with how this CBD has taken their coffee-drinking experience to a new level. People have found it helpful with everything from hangovers to back pain. Even for just an added touch of focus early in the day, Buddha Beans Coffee is a delicious way to dose CBD.
Best for:Those who enjoy exploring coffee beans from different regions of the world.
7. Chill CBD Coffee
Diamond CBD is one of those brands that continues to experiment with the ways CBD can be used in daily life. Some of their products, like bath bombs and cake pops, are a bit more novelty items that are unlikely to become part of a daily regimen. For a ritualistic dose, they decided to create CBD coffee. 
Their Chill CBD Coffee pod comes in packs of four and are ideal for K-cup users. These pods of coffee are both robust in true Colombian-grown flavor and a surprisingly high dose of CBD. Each cup will deliver 25 mg of CBD—much more than an average CBD-infused cup of joe. At this level, the formula is ideal for anyone with chronic pain or hard-to-handle anxiety and could do with an added jolt of CBD with their coffee.
This formula only comes caffeinated; there is no decaf. But with the significant punch contained in these coffee pods, Diamond CBD's Chill CBD Coffee certainly earned its place among the 10 best CBD coffees on the market today.
Best for: Those who need a heavier dose of CBD in the mornings. 
8. CBD Nutrition Coffee
There are 200 mg of CBD in the 8 ounce bag of full-spectrum CBD coffee from CBD Nutrition. With about 20 servings in a bag, you're looking at 10 mg per serving, which is a standard mild dose to take daily. 
At this level, you have the potential to reap some benefits from the CBD, like anti-inflammation and ease of anxiety. 
Many brands offer a decaf version, but CBD Nutrition takes a different approach to the CBD instead of the coffee itself. Their isolate pods blend fragrant and full-bodied Brazilian coffee beans with CBD isolate. 
The hemp used to make both the full-spectrum and the isolate CBD that goes into these coffees is organic, lab-tested, and eligible for free shipping. 
Best for: Coffee drinkers who want their beans blended with CBD isolate.
9. Kickback CBD Coffee
The Dark Roast OG Cali Daze coffee from Kickback CBD is a relaxing way to perk up in the morning. The 120 mg of CBD inside an 8 ounce bag of Dark Roast coffee feels something more like 600 mg intended to create this relaxing effect. 
If you're not looking for this added boost, the OG Cali Rise Medium Roast takes it down a notch. It includes 90 mg of full-spectrum CBD that could feel like upwards of 450 mg. 
How do they get a little bit of CBD to go the extra mile? The secret is in the choice of using Nano CBD. A single milligram can feel like it has 5 times the effect because it's "nano emulsified" making it water soluble and therefore more bioavailable. An increase in bioavailability means that it's easier for your body to process the CBD before it metabolizes it into waste, allowing you to reap bigger benefits. 
Best for: Those who are looking for an added kick from CBD. 
10. Mary Joe's CBD Cold Brew
Rounding out our picks for the 10 best CBD coffees is Mary Joe's CBD Cold Brew, with a unique take on the subject. K-cups may make things easier than brewing a pot of coffee, but Mary Joe is here to make your life with CBD coffee the easiest it can be. This CBD coffee comes as a cold brew in a pack of 4 or 8, so you can grab a bottle and go seize the day. 
One 7 fluid ounce bottle has 15 mg of natural CBD extract ready to get to work on you so you can work on your day.
Mary Joe makes improving your day their top priority. Whether it's reducing anxiety, relieving stress, improving recovery, or even reducing jitters, Mary Joe's cold brew can help make you feel more cool, calm, and collected. 
Best for: People who are active or on the go and want an easy CBD coffee solution.