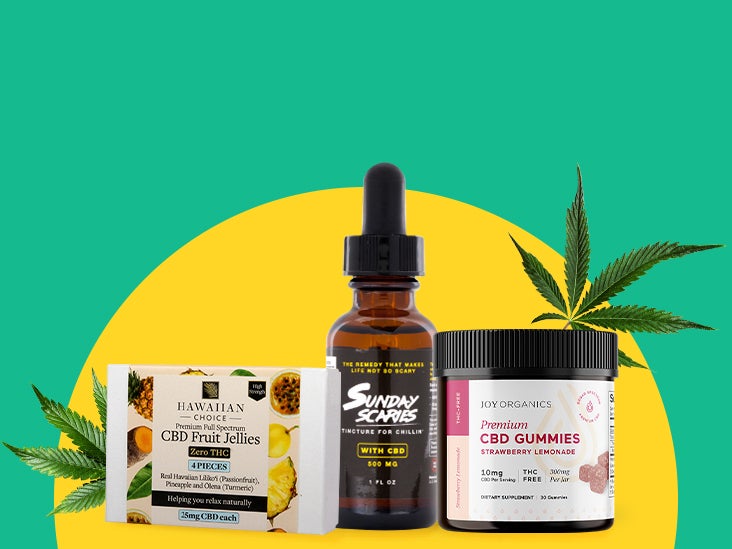 We include products we think are useful for our readers. If you buy through links on this page, we may earn a small commission. Here's our process.
With the flood of cannabis products, promos, and promises, it can be hard to tell what's what. These cannabinoids come in oh so many forms and claim to offer relief for many mental and physical health conditions.
We did the hard work to weed out the leading broad-spectrum CBD products for you.
What is broad-spectrum CBD?
Broad-spectrum CBD is a type of CBD that still contains other cannabinoids, but it doesn't have any THC.
Talking about CBD can be tricky if you don't understand the lingo. Here are some common terms and what they mean:
Types of CBD:
Full-spectrum CBD. Includes all of the natural compounds in Cannabis sativa, with a very low level of THC.
Broad-spectrum CBD. This is essentially full-spectrum CBD but with all of the THC removed.
Isolate CBD. This is highly filtered CBD where every compound but pure CBD has been stripped out.
CBD, in its various forms, is being waved around as a miracle cure and some studies are showing promising results for pain and inflammation (related to surgery, injury, illness, or chronic conditions) management.
There's even research suggesting CBD is an agent of relief for everything else from anxiety to trouble sleeping.
So, what's so special about broad-spectrum CBD specifically? Broad-spectrum CBD's a prime option for people who:
don't want the psychoactive influences of THC
still want the "entourage effect" that can result from using an array of cannabinoids
prefer something less processed than CBD isolate
want to address a variety of physical/mental wellness concerns
live in a state with strict THC laws
To each their own CBD
Each person, and their needs and preferences, are different. So, there isn't a one-size-fits-all "right" kind of CBD.
Thanks to the 2018 Farm Bill, CBD that comes from the hemp plant and contains less than 0.3 percent THC is federally legal in the United States. All of the broad-spectrum CBD products in our roundup fall into this category.
Keep in mind: CBD may still be illegal in your state.
But just because your CBD is federally legal, it doesn't mean it's blessed by the FDA. According to the FDA, there are currently only four approved cannabis-based or -related drug products. A prescription is required for these medications.
Because the FDA hasn't okayed CBD and doesn't regulate it like other foods or drugs, it's critical that you do your research.
When it comes to CBD and your well-being, only the crème de la crop will do. We evaluated products based on criteria we think are good indicators of safety, quality, and transparency. Each product we picked to feature in this article:
is made by a company that has proof of third-party testing by an ISO 17025-compliant lab
is made with U.S.-grown hemp
contains no more than 0.3 percent THC, according to the certificate of analysis (COA)
is free of pesticides, heavy metals, and molds, according to the COA
We also considered:
company certifications and manufacturing processes
product potency
entire ingredients profile
indicators of user trust and brand reputation like:

whether the company makes any unsupported health claims
The sheer number of cannabis products can be confusing and overwhelming, so our top picks list quiets some of the noise and offers a solid starting point for CBD exploration.
Pricing guide
So that you can compare like to like, the price rating reflects the cost per 100 milligram (mg) of CBD in each product.
$ = under $15 per/100 mg
$$ = over $15 per/100 mg
1. Hawaiian Choice Fruit Jellies – Broad-Spectrum CBD
Price: $$
CBD per serving: 25 mg
Total CBD: 100 mg
Product type: gummies
With tropical fruit flavors, these all-natural and vegan adult gummies just might help you chillax. Plus, who doesn't like a little taste of paradise? One jelly equals a serving and Hawaiian Choice suggests taking 1 to 2 gummies daily to find that aloha spirit.
Buy .
2. Sunday Scaries Vegan CBD Gummies with Vitamins D3 and B12 – Broad-Spectrum CBD
Price: $$
CBD per serving: 10 mg
Total CBD: 200 mg
Product type: gummies
If you need help settling down and settling in, these Vegan AF vita-gummies may be just the thing. They come in a cheerful rainbow assortment of fruit flavors and that classic gumdrop shape. Sunday Scaries recommends taking 2 to 4 gummies anytime life's stresses really start to become a bother.
Buy Sunday Scaries Vegan CBD Gummies.
3. Sunday Scaries CBD Oil Tincture with Vitamins – Broad-Spectrum CBD
Price: $
CBD per serving: 30 mg
Total CBD: 500 mg
Product type: tincture
Want something with a bit more oomph? Sunday Scaries all-natural, gluten-free tincture might be your answer. It claims to help you find calm and deal with everyday frustrations.
Because the CBD oil is suspended in coconut oil, it has a light fruit flavor. Add a third of a dropperful to your tea or smoothie, or under your tongue for faster absorption.
Buy .
4. Joy Organics CBD Gummies – Broad-Spectrum CBD
Price: $
CBD per serving: 10 mg
Total CBD: 300 mg
Product type: gummies
Billed as a dietary supplement to support your wellness regimen, this vegan product is an easy option if you'd like to give CBD a try.
The green apple or strawberry lemonade gummies use high-quality organic ingredients and come in a BPA-free jar. Another cool thing: Joy Organics offers discounts to veterans, first responders, teachers, medical personnel, and more.
Buy .
A note about $
All three companies above offer either subscription or reward programs (or both) that can save you money the more you buy.
They also offer affiliate and referral programs that can help lower your costs when your peeps buy products. Each provides free shipping within the U.S., but some require a minimum purchase first.
Our list is a great jumping-off point for sure, but, as the wise consumer you are, it's key that you know how to research, evaluate, and buy CBD.
Know your product
Two big things here:
Learn how to read CBD package labels. This is the only way you can tell if you're getting a premium product with quality ingredients. It's also how you find out what the concentration, dosage, and usage particulars are.
Understand the different kinds of products and variations in their composition. Oral versus topical, pure versus diluted, etc. It's especially important to know what else is in your CBD. Many products use carrier oils (like coconut oil), which cut concentration but make it easier to consume the CBD.
Know your manufacturer
Because the federal oversight on CBD is pretty much non-existent, you'll want to buy products from a trusted source. A reputable maker will have a high degree of transparency and legitimacy. This means it should be relatively easy to get stuff like:
info about the company (including contact details and any industry awards or certifications)
comprehensive product info (including ingredients and instructions)
insight into their processes (including third-party product verifications)
independent customer reviews
customer satisfaction policies
Know your marketplace
You have some options when it comes to buying CBD:
Dispensaries. These are great because they're local and typically have staff available to help you through your decision.
Health stores and some pharmacies. Some now sell certain CBD products. However, the quality, selection, or testing rigor for drugstore products may not be on par with dispensaries.
Online marketplaces. They might be the way to go if you're a virtual shopper. This is especially convenient if you want to compare a variety of products from multiple manufacturers.
Manufacturer websites. They offer a great way to shop online, particularly if you know what you want. You may even save money by buying direct (lower markups, frequent buyer programs, etc.).
It's pretty much as straightforward as pop and drop when it comes to taking gummies and oils, but finding out how much to take can be a challenge.
Dosage
Every body is unique, so everybody will respond differently to CBD. When you factor in product and usage variances, the range of reaction to CBD just grows.
So, Rule #1 of Club Cannabis is: Start low and go slow. It's a bit of a try-and-see approach, so you just have to experiment (carefully!) to see what works for you.
The guidelines on your product label can help you get an idea of where to start. The products featured here start with dosages of 10 to 30 mg per day, as desired.
Early research has suggested that CBD is safe and usually well-tolerated. In fact, one review found that CBD could be safer than other drugs for treating certain conditions, such as epilepsy.
Overall, however, the consensus in the scientific and medical communities is that more studies need to be done on the safety and effectiveness of CBD.
In the meantime, ask your doctor before taking up a CBD routine.
Adverse reactions
Like any other drug, there are possible downsides and plenty of unknowns when it comes to CBD.
Here's what we know about side effects:
CBD can interact with chemo meds and blood thinners.
CBD may cause liver damage.
When used in conjunction with alcohol or other drugs, CBD can lead to drowsiness or sedation.
CBD may harm male reproductivity.
CBD could disrupt your gastrointestinal (e.g., diarrhea) and metabolic (e.g., appetite changes) systems.
CBD can affect your mood or alertness.
And there are still some gaping CBD question marks:
What are the effects of daily, long-term usage?
Is there a threshold amount needed to trigger side effects?
How do different delivery methods/formulations impact intake?
Are there any interactions with other plants?
Keep in mind that CBD products have other ingredients, like fillers, flavorings, carrier oils, preservatives, vitamins, and more. Sometimes these components can cause unintended or negative reactions of their own.
Safety first
To minimize the risk of side effects, get the green light from your doc before consuming CBD and follow the manufacturer's directions for use.
Cannabis has over 540 compounds, including the recognizable THC and CBD. Broad-spectrum CBD is a form of cannabis that's had all the THC removed, so you won't get "high," but you could reap the benefits of 100+ cannabinoids.
CBD is being used to treat a variety of physical and mental health conditions, from pain to depression. We're still a long way from solid scientific or medical proof of CBD's safety and efficacy, but current research is encouraging.
Is CBD Legal? Marijuana-derived CBD products are illegal on the federal level, but are legal under some state laws. Hemp-derived CBD products (with less than 0.3 percent THC) are legal on the federal level, but are still illegal under some state laws. Check your state's laws and those of anywhere you travel. Keep in mind that nonprescription CBD products are not FDA-approved, and may be inaccurately labeled.