CBD capsules aren't talked about as often as other hemp-based CBD products (think oils, topicals, gummies, etc), but they probably should be. Capsules can offer tremendous benefits in terms of convenience, and they in fact boast several key advantages over other types of CBD products.
Like any hemp extract product, however, CBD capsules online can (and do) vary tremendously in terms of quality. In this guide, we pick out the best CBD capsules for 2021 based on value, company transparency, manufacturing quality, and overall effectiveness.
What Are CBD Capsules… And How Do They Work?
CBD capsules are precisely what they sound like; pills infused with cannabidiol. CBD has recently become super popular as a general supplement. Proponents believe that it can support numerous biochemical functions via the endocannabinoid system, and therefore it can benefit overall well-being and internal homeostatic balance.
These days, most manufacturers draw the CBD and other cannabinoids from hemp plants. Typically, this is infused into a carrier oil such as MCT oil. In the case of capsules, the cannabinoid extract is often added right into a tablet. However, the best CBD pills come in the form of soft gels. With soft gels, the CBD oil is mixed with a gelatinous casing and molded into a tablet form. Soft gels are easy to swallow and easy for the body to digest, making the CBD much more effective.
CBD capsules work similarly to CBD edibles. Since you consume them orally, they have to be broken down in the digestive system before the CBD can make its way into cells. As a result, the effects may take longer to kick in – but you may feel them for a longer period of time.
Many CBD users prefer capsules because they are tasteless and they offer a familiar format to other supplements. We could go on and on about the benefits of CBD capsules, so let's explore the pros and cons in a brief, summarized list:
PROS AND CONS OF CBD CAPSULES
Capsules are convenient and provide a pre-measured dose of CBD
They provide a familiar format for taking supplements
The best CBD capsules are soft gels, making them easy to swallow
Most companies sell capsules that provide the perfect daily amount of CBD
CBD capsules are ideal for carrying on the go
Some capsules contain added ingredients that help to target specific ailments
Capsules take longer to take effect than other forms of CBD
It's more difficult to tailor the dose of CBD pills
Sometimes, capsules are more expensive than tinctures
Many capsules contain bovine gelatin, so they aren't suitable for vegetarians and vegans
EDITOR'S CHOICE – PUREKANA
Don't feel like reading each and every review? If you want to skip straight to the verdict, our team's top pick for the absolute best CBD gummies of 2021 goes to PureKana. This company makes all of their products right here in the USA, and really, we have yet to come across a higher quality product.
Best CBD Capsule Brands
Video Summary: The Best CBD Capsules for 2021
There are dozens of companies selling CBD capsules, but we feel the following five options are hands down the best on the market:
1
BEST PICK FOR MULTI-PURPOSE USE
Pure Kana offers a 30-capsule bottle, with each capsule containing 25mg of CBD. PureKana products are made from authentic USA-grown hemp, meaning the THC content is always less than 0.3%. At the time of writing, the company is the current #1 pick for the best American-made CBD products. Have a look at their social media following, and you'll see why.
One of our favorite things about PureKana is the fact that they put a lot of emphasis into product transparency. You can go to their website, and view an updated lab report for each and every product that they sell. This is what has turned this company into one of the top CBD brands in the market.
Furthermore, PureKana capsules are certified organic, non-GMO and contain no solvents, chemical fertilizers, herbicides, or pesticides. Like all reputable firms, PureKana ensures its products undergo rigorous testing by a third-party lab. And for the record, the capsule's only ingredients are purified water, glycerin, gelatin, hemp seed oil, and hemp extract.
WINNER BY MULTI-PURPOSE USE: PUREKANA
2
BEST PICK FOR CBD SOFTGELS
Premium Jane is one of the companies that has received rave reviews on numerous sites. After receiving a sample supply of their 25mg softgel CBD capsules, we have to agree that this CBD brand is one of the best.
In terms of flavor, there's not much to describe about CBD capsules. All you're doing, after all, is popping them in your mouth and swallowing with water. The main thing that stood out to us about Premium Jane CBD capsules was how fast-acting and long-lasting they were. Several of our team members said they felt the effects for over 10 hours (one of our writers takes CBD for anxiety and to help support recovery from exercise-induced inflammation).  This is far better than most CBD capsules, which rarely last longer than 6 hours at a time.
The only downside is that because Premium Jane capsules in such high demand, they sometimes sell out on the company's official website. If you can get your hands on a bottle, however, they offer free shipping to most U.S. states. You can easily order online by visiting the Premium Jane site.
WINNER FOR BEST SOFTGEL: PREMIUM JANE
3
BEST PICK FOR XL QUANTITY
CBD Essence has an impressive number of products, and its CBD capsules are among the company's best sellers. The brand's Medicinal Hemp Oil Liposome Capsules come in four sizes:
30 capsules = $74
60 capsules = $134
90 capsules = $176
120 capsules $226
Each capsule contains 35mg of CBD, which is extracted from organically grown industrial hemp plants. The hemp oil used to make CBD Essence's capsules is EU-certified, and other ingredients include organic virgin coconut oil and organic sunflower lecithin in a liposomal formula.
WINNER BY QUANTITY: CBD ESSENSE
4
BEST PICK FOR THC-FREE CAPSULES
Although Joy Organics doesn't have the largest collections of products to choose from, they offer their CBD capsules (or 'softgels' as they call them) in various sizes and formulations. You can purchase a 30-count bottle of THC-free capsules for $44.95, with each capsule containing 10mg of CBD. Or, you can up the milligram amount and purchase 25mg capsules for $89.95 (also 30-count bottles). The higher-strength options are available in two different formulations: curcumin for healthy joints and melatonin for help with sleep.
Joy Organics CBD capsules are also formulated using water-soluble nano-emulsion technology, meaning that more of the active cannabidiol ingredient will be delivered to areas of your body that it need it, without being lost to degradation or digestive breakdown. Using their unique blend of broad-spectrum (zero THC) CBD oil, Joy Organics CBD capsules are ideal for anyone looking to manage a stressful, hectic lifestyle.
WINNER FOR BEST THC-FREE CAPSULES: JOY ORGANICS
Elixinol is based in Colorado and brings decades of experience to the table. The brand offers several varieties of CBD capsules, including a 'Daily Balance' formula, 'Omega Turmeric' formula, and a 'Stress Less' formula, among others. These capsules utilize full-spectrum CBD extract, so you consume a multitude of cannabinoids and terpenes along with other plant-based ingredients.
They also offer a full-spectrum CBD Capsule Trial Set, which contains several of their formulations in one order. We highly recommend starting off with one of these, as you can try out a few different options and see what works for you before you go and spend money on a full-priced bottle.
WINNER BY VARIETY: ELIXINOL
6
BEST PICK FOR POPULARITY
The 'CW' stands for Charlotte's Web, and CWHemp is undeniably one of the world's most famous CBD brands. They're also one of the few sellers to offer CBD capsules in several strengths and sizes:
8mg capsules – $34.99 (30 count) or $59.99 (60 count)
15mg capsules – $54.99 (30 count), $99.99 (60 count), or $149.99 (90 count)
18mg capsules – $69.99 (30 count) or $119.99 (60 count)
25mg capsules – $94.99 (30 count), $179.99 (60 count), or $269.99 (90 count)
CWHemp's capsules also contain rice bran, maltodextrin, microcrystalline cellulose, and MCT fractionated coconut oil. By consuming CWHemp's range of capsules, you're also enjoying an array of beneficial cannabinoids including terpenes, flavonoids, and phytochemicals. If you're serious about enjoying the benefits of CBD, CWHemp has some of the best capsules on the market.
WINNER BY POPULARITY: CHARLOTTE'S WEB
Want to learn even more about how — and why — we came up with these particular selections for the best CBD capsules for 2021? Keep on reading…
Understanding Hemp and the Advantage of Ordering CBD Capsules Online
You're probably aware of the medicinal value of cannabidiol, also known as CBD. In recent years, CBD has become one of the best-known compounds in cannabis. Most of the products you see for sale come from hemp. This is because hemp has negligible amounts of THC. Therefore, it doesn't provide users with a psychoactive high.
In 2018, the CBD market was revolutionized when an updated version of the Hemp Farming Act (part of the U.S. Farn Bill) was passed into law. The act permits the legal cultivation of industrial hemp plants, at least under certain regulation. Hemp, for those that are unaware, is actually a distinct cultivar of the Cannabis sativa L.plant.
When the Farm Bill was passed into law, many assumed CBD (since it comes from hemp) would become fully legalized. This isn't entirely true. The Farm Bill does indeed legalize hemp, but individual states still have the option of whether they want to 'adopt' the Farm Bill or reject it. The vast majority of states are adopting it and coming up with their own legal hemp cultivation programs, but a select few states are opting to reject it. This means that high-quality CBD capsules are easier to find in some states than in others.
For this reason, CBD capsules online are what we recommend. Many of the best USA-based companies are based 100% online, and for good reason; ordering and shipping is extremely convenient, and trackable product description pages allow customers the opportunity to view things like third-party lab reports and full cannabinoid profiles for the specific CBD capsules that they're interested in.
Why Do People Use CBD Capsules?
CBD capsules carry tons of benefits. Primarily, they offer a tasteless version of CBD oils. If you've tried CBD tinctures before, then you'll be aware of the peculiar taste. There are flavored CBD oils on offer, but perhaps you don't want to subject your body to additives. This is where capsules come in.
Capsules are not only tasteless, but they're also super convenient. They provide a pre-measured dose of CBD, often with the ideal amount for daily use. You can carry a jar of CBD capsules on-the-go for usage at any time.
Of course, another benefit is the ease of use. CBD capsules are easy to swallow, just like any regular pill. Pop one in your mouth, swallow with a drink of water, and you're good to go! Once you get into a routine of taking a daily pill, it's easy to keep track of how much CBD you use each day.
How Do Companies Create CBD Capsules?
Capsules, pills, and CBD soft gels are slightly different in a technical sense. However, these terms are often used interchangeably. (It's confusing, we know!). Understanding differences in terminology can help point you in the right direction when it comes to choosing a product:
Pills: A pill is a pressed powder form. These are often cheapest, but may also carry an unpleasant taste. It's rare to see a CBD pill.
Capsules: This format includes a plastic-like coating with liquid or powder contained within. Capsules are prone to leaking, but are sometimes easier to swallow than pills.
Soft Gels: These are the most popular type of CBD capsules. The CBD oil is suspended in a hardened, gelatinous casing. These won't leak like a capsule, but they can melt in excessively hot temperatures.
Many agree that CBD softgels are the most popular for supplements because they're the easiest to swallow. Plus, they break down well in the body, ensuring high efficiency when taking CBD.
To make soft gels, manufacturers simply infuse CBD oil into the gelatinous mixture. Some brands use gelatin, but others use vegetable glycerin to make vegan-friendly capsules. You may also notice MCT (medium-chain triglycerides) in the ingredients; these come from the CBD oil base.
What About Additional Ingredients?
Alongside the cannabinoid extract, MCT oil, and soft gel coating, some brands add additional ingredients. Usually, the components depend on what the capsule is for.
For example, many of the best CBD pills for sleep contain supplementary infusions of melatonin. A small amount of melatonin can help you to fall asleep at night, so manufacturers will add a couple of milligrams alongside the CBD.
Another option is turmeric. The best CBD capsules for pain may contain ingredients like this, as turmeric is an anti-inflammatory. As a result, it may help to ease mild aches caused by inflammation.
Lots of brands may also add extra vitamins and minerals. Any CBD capsule that contains hemp seed oil may contain amino acids and essential vitamins, which boosts the health content of the pill. Make sure you always check the ingredients to ensure you're buying the best CBD capsules to suit your needs.
Summarizing the Basic Advantages of CBD Capsules
All in all, CBD capsules are a fast and easy way to digest cannabidiol. In fact, CBD capsules are quickly becoming one of the most popular forms of CBD consumption. Compared to CBD tinctures, they offer a tasteless and convenient experience. Most brands sell at least one CBD capsule option, however, so that makes finding the right product difficult.
Luckily, we are experienced reviewers, and our team has tried and tested all the best brands on the market. The top selections presented in this guide are our personal picks for the best CBD capsules on the market today. It wasn't easy coming up with this list of the best CBD pills for 2021, but we did it – including our top choice for CBD capsules on a budget.
We also went over an abundance of rudimentary information on CBD capsules, including how they work and how they differ from other types of CBD products. For those that missed out, let's take another quick look:
How CBD Capsules Differ from CBD Oil
The most obvious difference is in the method of consumption. You can swallow a capsule with water, whereas oil users can place CBD beneath their tongue or add it to food or drink. While capsules are easier to swallow, you can't use them topically as you can with oil. For this reason, CBD oil is more versatile; users can consume it in a manner of ways, and change the dose as they see fit.
However, capsules allow for convenience since it only takes a second to pop one in your mouth. Also, since many users dislike the taste of oil and prefer to consume their CBD quickly and effectively, CBD capsules offer an obvious advantage.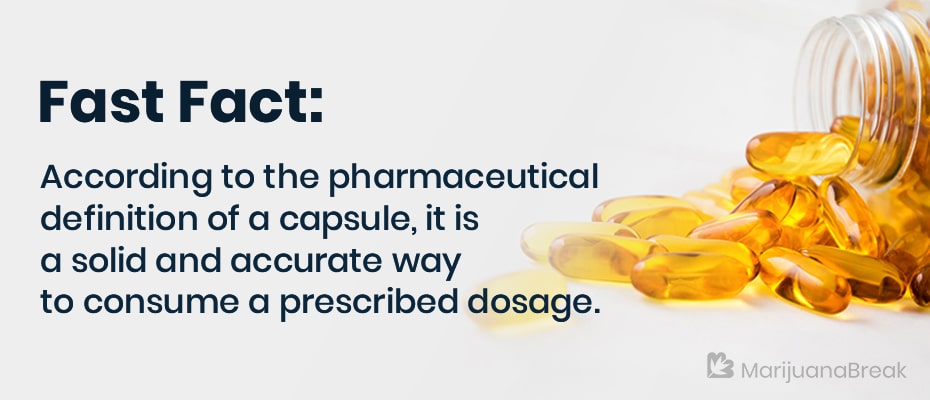 With that being said, it's possible that CBD capsules take longer to take effect than other types of CBD products. When you consume a tincture, you're placing the oil underneath your tongue where numerous small blood vessels actively absorb the CBD compound. Caspules, on the other hand, have to pass through the digestive system, which is likely more inefficient in terms of CBD making it to the body's cells.
CBD Capsules: Final Verdict
It's always a relief to know that there is more than one way to consume CBD. Although oil is still the most popular product, capsules are catching up rapidly. As well as offering people a ready-made dosage, CBD capsules are easy to swallow – great news for anyone who doesn't like the taste of an oil.
In the list above, we highlighted some of the most reputable CBD product providers in the USA. However, our #1 brand for 2021 was unanimously PureKana. We feel that this brand offers the best combination of milligram strength, reliability, transparency, and overall value for the price you're paying.
We hope this review of the best CBD capsules for 2021 has been helpful and beneficial for you. There are a lot of products out there to choose from these days, so make sure you're exercising due diligence and doing plenty of research to find the best, most reliable brand for your needs.